Learn how to apply for 'Naya Pakistan Housing Programme'
(Dunya News) – The registration process for federal government's ambitious five million housing scheme commenced Thursday after the National Database and Registration Authority (Nadra) issued registration forms.
The application forms for Prime Minister Imran Khan's 'Naya Pakistan Housing Programme' can be collected from designated Nadra offices for 250 rupees apiece. A
downloadable version
is also available on Nadra's website. The deadline expires on December 21.
The form is divided into 11 heads which cover the aspirant's name Computerised National Identity Card (CNIC) and mobile number, profession, current residence, monthly income, preferred installment plan, number of expected residents, residential address for registration, and declaration.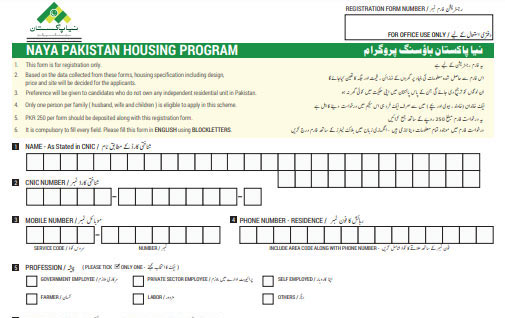 The government has selected seven districts - Sukkur, Quetta, Gilgit, Muzaffarabad, Swat, Islamabad, and Faisalabad - to carry out its pilot project.
Prime Minister Imran Khan said at the
launch ceremony
that the target of the government was to ensure provision of five million low cost houses for the under-privileged in five-year duration.
"It will also attract local and foreign investments and stimulate about 40 related industries," he said and added that the pilot project would be undertaken through one-window operation.